Brennivin T-Shirt - Black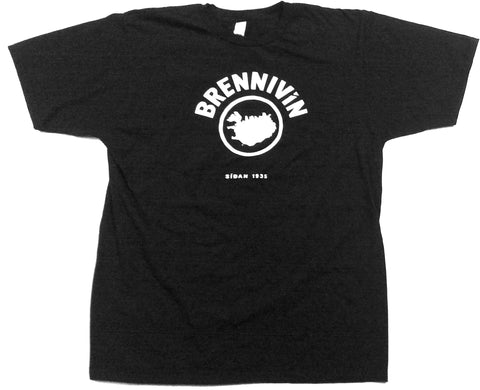 Previously the only way to grab an iconic Brennivin logo t-shirt was to visit Iceland or steal a sweaty one off Dave Grohl's back. Well no longer!
Classic B&W. What else can we say - it just doesn't come any badder than this.
Jason looked at every brand of shirt out there to find the right cut, fabric, and colors we knew we wanted. These are from Anvil, and they rock. Hard. Hell even the name is made of awesome. 4.5 oz ring spun 100% cotton for a lived-in vintage feel right from day one. The heather shirts are really soft, and as comfy as a pile of kittens. Taped seams and seriously nice quality. Tear-out tags for added comfort-ness.
Men's sizing: The best cut out there - not too long, not too short, and not at all boxy.
Lil Wayne = Small
Mumford = Medium
Grohl = Large
Lemmy = XL
Women's sizing: Super sexy and feminine cut, hand-picked by Brennivin's in-house designer Lisa.
Gaga = Small
Stefani = Medium
Beyoncé = Large
Order a Brennivin t-shirt and unleash your Inner Viking today! Ships free in the U.S.